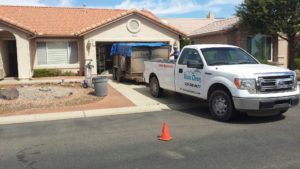 Whenever you put your house on the market junk removal is about the furthest thing on anyones mind.  When selling a home the first thing I would do is contact my realtor.  When trying to sell your home it's crucial to stage the home to look neat and organized in order to sell it in a timely manner.  Whenever I begin my moving process, I never realize how much junk I have until I am packing it all.  At this point I am questioning if I truly need this possession or to just junk it.  By the time I have packed my entire home there are so many things I need to have hauled away.  Now I have to figure out how I am going to take the time out of my day, while moving; to take these items to the dump.  
Vista Clean Junk Removal offers same day service, even if you are moving to your new house and aren't home.  We'll send you a picture of all of your items outside the home with a quote and haul them away for you.  All while you are conserving that precious time that we all loose to quickly.  
Misfortunes happen in life and that can sometimes lead to foreclosure or eviction.  After everyone is out of the home by the date provided, the bank will go in to inspect the home. When foreclosures or evictions happen sometimes the home is left is disarray and chaos. Homeowners and tenants tend to leave bulky furniture items, trash, and sometimes vandalism. With all these uphill battles you always look to your realtor to see if they have any experiences with these situations.  We strive to make awesome connections with realtor teams around the Tucson area.  We provide great services so that whenever you recommend us to clients your reputation is still awesome!