Construction Site / Jobsite Cleanup Service in Tucson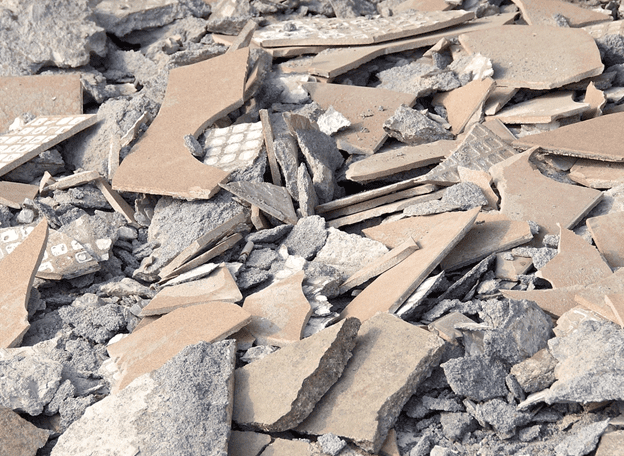 A jobsite is beautiful in its own way because of what's being built or restored, but at the same time it's like a garbage factory.  Sometimes you wonder how a building can contain so much stuff and still stand.  You may or may not have needed to rent a dumpster, and the dumpster may or may not have been enough.
Between the structure you're working on and all the materials used to work on it, you've probably got wood, metal, glass, plastic, masonry, and just plain garbage, and all of it needs to go.
Call Vista Clean Junk Removal in Tucson.  We remove all kinds of construction debris, including but not limited to: plywood, studs & joists, pressure-treated wood, OSB, flooring, tile, insulation, sheetrock, asphalt shingles, metal & other roofing materials, flashing, siding, house wrap, furnaces, air ducts, pipes, water heaters, wiring, light fixtures, fluorescent lights and ballasts, ceiling fans, rebar, concrete, cinder blocks, bricks, asphalt, fencing, windows, doors, carpet, toilets, bathtubs, showers, and more.  If it was in your building, it can go in our trucks.
We dislike waste as much as you do, so we donate as much as we can to Habitat for Humanity or similar charities that can accept good-condition items or materials and can put them to good use.
Vista Clean Junk Removal works with customers throughout greater Tucson and Pima County, including in Oro Valley, Sahuarita, Catalina, Marana, Vail, Mt Lemmon, Green Valley, Casa Grande, Sierra Vista, Red Rock, Eloy, and other communities in the area.
Whether it's at your home or a large commercial jobsite, you can contact Vista Clean Junk Removal in Tucson for immediate scheduling and a fast and complete cleanup.