Garage Cleanouts in Tucson & Nearby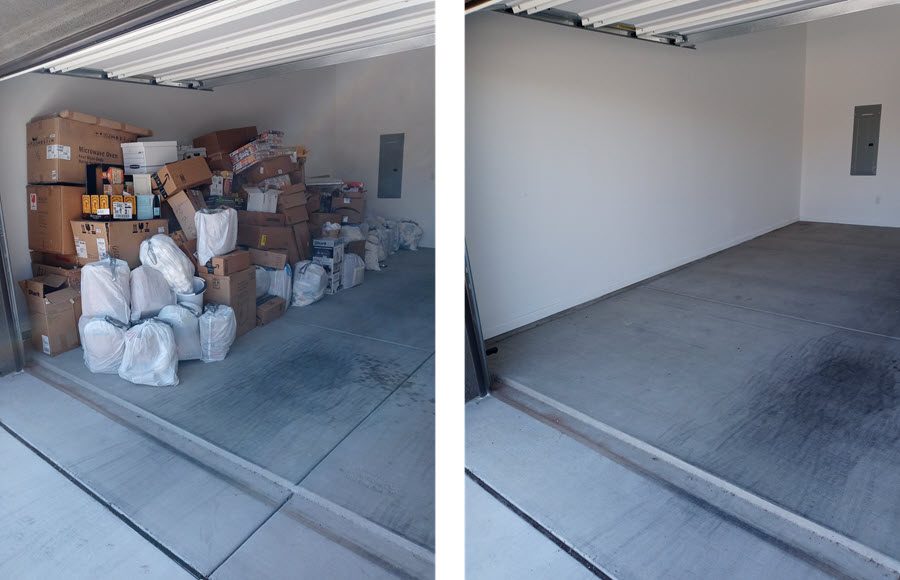 There are times where I walk out into my garage only to find it packed with clutter.  Here n Arizona it's important to the safety and condition of your car that you store it indoors or under covered parking.  Not only will that help with keeping your paint in pristine condition, with no scratches, but it also it wont be 130 degrees when you climb in your car.
It's also important to keep your garage clutter-free because of pests here in Arizona.  They always manage to find a way into your belongings. Clearing out a garage and going through every box can be time-consuming and stressful.  Vista Clean Junk Removal is are here to help you declutter your garage.  We'll work around your workflow, whether you have your throw-out pile already identified, or you have to go sort through things as we clear out other items you know need to go. Before Vista Clean Junk Removal comes out for your garage cleanout, you'll just need to make sure that you have it all have at least some of the items ready to throw away or donate.  Two men will come and help load our 10- or 12-yard dumpster trailer with your desired items you want removed.  After that process we'll take the time to sweep out the garage for you.  We  want to make sure that every process is easy and stress-free for you.  The best part is you finally get to relax at home knowing that your garage is clutter-free and that you can park your car in your garage.  We take the items that we just hauled away and either donate them or take them to the dump.  If you have donatable items just let us know and we can even get you a tax credit form.
Call Vista Clean Junk Removal in Tucson today for all your garage cleanout and junk removal needs.
"We had some large wood cabinets in our garage that had seen better days. We removed them and stacked the wood on the side of the house for pickup. We had the guys from Vista Clean come out and haul everything away. They did a five star service! Very quick, organized, and quiet. They filled an entire dump trailer and made no noise loading. They were friendly, hard working guys. I will have them out again the next time we need junk hauled away. Highly recommended." – Chris Towner (see review on Google Maps)
"We had cleaned out the garage and a shed, torn down a dog run, and trimmed some trees. It was very easy to book an appointment on line with Vista Clean. They followed up immediately to verify the the appointment and the details. On the day of the job, they notified me that they were on the way and arrived right at the start of the two-hour appointment window. They finished the job in about twenty minutes. it would have taken my husband and me all day to do what they did. They were fast, courteous, and professional. I absolutely recommend them for junk removal, and will use them again." – Laura Pusch (see review on Google Maps)
"I would definitely reccomend Vista Clean Junk Removal for any job you need done. They were able to schedule me right away for a garage cleanout. Ken and Jesse did a fantastic job getting it done quickly. They have a strong work ethic and are committed to doing the job right. My garage hasn't looked this good in a long time. Thank you, Ken and Jesse!" – Rhonda Conyer (see review on Google Maps)