Furniture Removal Service in Tucson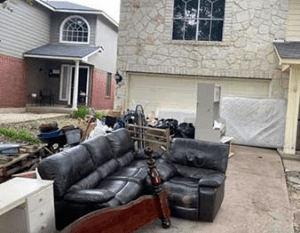 Furniture can be tough to remove.  Most is too big for the weekly garbage day, friends and family don't want or need it, Goodwill won't take it, and auctioneers won't touch it.  Especially if it's the dreaded "brown furniture," there may be nary a buyer for it with 200 miles.  If it was all wood you'd consider building a glorious bonfire, but you probably have some upholstery and other materials that aren't so good to barbecue.
Vista Clean Junk Removal in Tucson can help.  We'll come to your business or home and remove all the furniture you want removed.  Whether it's furniture that used to fill your office or your living room, there's no job too big or too small for us.  We can make as many trips as we need to, typically on the same day.
We remove furniture pieces like:
Sofas & couches
Chairs
Desks
Tables
Dressers
Armoires
Bed frames (and mattresses)
Futons
Night stands
Cabinets
Shelving units
Credenzas
And much more.
Because we hate waste as much as you do, we'll donate as much of the furniture as we can.  (As junk removal professionals, we know the few places that pretty consistently accept furniture.)
Vista Clean Junk Removal works with customers throughout greater Tucson and Pima County, including in Oro Valley, Sahuarita, Catalina, Marana, Vail, Mt Lemmon, Green Valley, Casa Grande, Sierra Vista, Red Rock, Eloy, and other communities in the area.
Call Vista Clean Junk Removal for immediate scheduling and a prompt, professional, and complete removal of your furniture.