Shed Removal Service in Tucson Area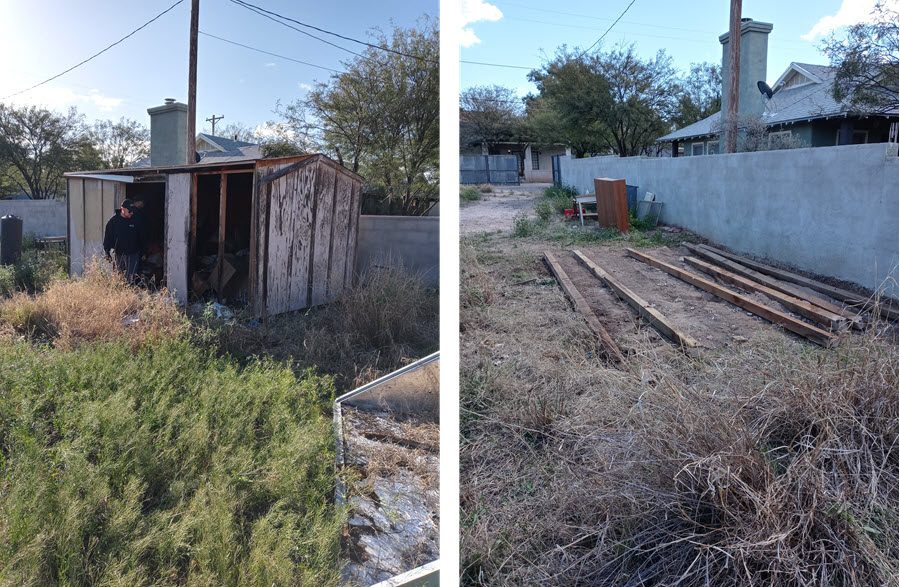 An old, broken, or hopelessly cluttered shed is a problem on many levels.  It could collapse, cause an injury, catch on fire, get infested with pests, attract wild animals, invite vandalism, spook guests and residents and neighbors, become an eyesore, and more.  In some cases the powers that be may even make you tear it down.
If you have a shed that's no longer functional, no longer being used, or is full of unneeded items, we can tear the shed down and haul it all away.  We'll do it in a safe way that doesn't damage the rest of your property or irritate your neighbors.
Vista Clean Junk Removal works with customers throughout greater Tucson and Pima County, including in Oro Valley, Sahuarita, Catalina, Marana, Vail, Mt Lemmon, Green Valley, Casa Grande, Sierra Vista, Red Rock, Eloy, and other communities in the area.
Call Vista Clean Junk Removal in Tucson to get your shed taken down and hauled away affordably, easily, and quickly.
"Vista Clean did an awesome job removing an old shed from my back yard. No sign it was ever there and I slept through the whole process! very happy with their work and the price. Highly recommend." – Garrett Ronstadt (see review on Google Maps)
"We had Vista Clean come out and remove an old aluminum shed and some associated junk and yard waste from our yard. They arrived on time with all the right tools. They were very professional and did a great job. The shed was removed and you wouldn't even know it had been there based on the appearance of the yard after the job was done. I wholeheartedly recommend Vista Clean for any junk removal or yard waste clearing needs!" – Ari Slater (see review on Google Maps)