Garbage Removal Service in Tucson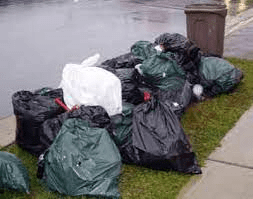 Sometimes the regular trash-pickup day just won't cut it, but you don't quite need to rent a dumpster.  Either you have too much garbage, or the items are too bulky, or it's the kind of garbage that you just don't want baking in the sun for days.  It may not even be your garbage: Maybe it blew into your yard, or it was left on your property by a bum.
In any case, the garbage definitely can't stay inside, and it probably can't even stay outside, and so you're in purgatory.  Even if the garbage collector will accept some of it, you need them to take all of it, and you can't risk this being the week they "forget" to take the garbage.
Just call Vista Clean Junk Removal in Tucson.  We'll haul away your garbage quickly and dispose of it responsibly.  Whether you've got a few excess bags or the pile is the side of an inflatable bouncy castle, you can expect us to schedule your pick-up immediately and haul it off in short order.
Vista Clean Junk Removal works with customers throughout greater Tucson and Pima County, including in Oro Valley, Sahuarita, Catalina, Marana, Vail, Mt Lemmon, Green Valley, Casa Grande, Sierra Vista, Red Rock, Eloy, and other communities in the area.