Attic Cleanout Service in Tucson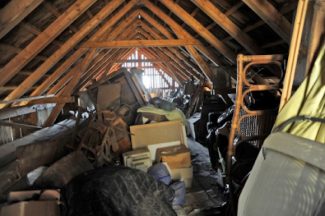 The word "attic" triggers various reactions in people's faces. Among the common ones, the dread of dirt is probably the most frequent we see. Attic is usually the last place in the entire house to get cleaned out, it even comes after the basement and garage. We don't use the attic too often, and we tend to think that it will always be in the same condition when we use it the last time. Over the years, we are building up clutter in the attic, but it gets worse during every spring cleaning. If not cleaned out on timely manner, the attic is a perfect place for spiders, rats, birds, and possibly possums to hide. Instead of waiting for the worst and call pest control, you can avoid every bit of damage on attic by hiring professional attic cleanout service.
Years of dirt and dust have accumulated in your attic, and no one in the house cares enough to do the cleaning. If you have to use a mask to prevent your skin and lungs from absorbing dust in the open, put in mind that gear may not be enough to prevent everything else that you will come across during a attic cleanout. Regardless of how careless we are about the attic, we eventually find that the space needs through cleaning either for restoration or making another room for storage. It is unavoidable and can be the most daunting cleaning jobs in home. Before you rush into the ladder to cleanout your attic, there are some considerations to put into account:
Do you know what you are going to find in your attic cleanout?
Do you want to get rid of things or simply reorganize?
Can you cover all attic cleanout areas within a day? If you can't, how much time you can devote to another cleaning?
Do you have the necessary safety gears?
Do you need help?
If cleaning the basement or garage is tiring enough, it is safe to say that attic cleanout is much more demanding. Unless you have clear plans on how to organize items and get rid of the unused ones, this cleaning job can be a major drainer, and quite risky due to pollutants, hazardous materials, and more.
Attic cleanout is not a job for everyone; it is best left to trained professionals who understand how to choose the proper equipment and how to tackle various problems that may arise. In case you need professionals to handle the job, Vista Clean Tucson is a junk removal company providing services to get rid of junk from your yard, basement, garage, carpet, and old appliances for residential and commercial properties. It is based in Tucson and serves all the surround areas.