Yard Debris Removal in Tucson: Clear out Your Yard, Garden, or Lot Affordably & Quickly
We have removed our share of yard debris — no need to risk getting bit by a snake or stuck by a cactus. Our yard debris cleanup service is just what you have been looking for. If it's on the ground, we will remove it. So trim up your paloverde trees, mesquite trees, cactus and more and rest easy knowing that Vista Clean can load it and haul it away. We have experience in removing large and small amounts of yard debris. We pack our dump trailer to the max; to assure you receive top value for your money. Vista Clean Junk Removal is proud to give Tucson the best deal in town for yard debris removal and cleanup. Call today for your free onsite quote and removal.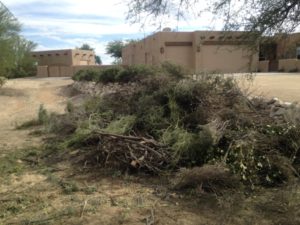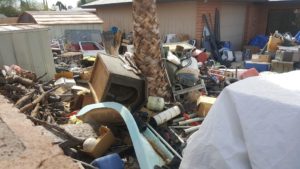 Sometimes there is more than just green waste in a yard; That is ok. Vista Clean specializes in yard waste removal of all types. Whether it's an old hot tub shell, playground set or trash strewn all over the property. Fast, professional yard waste removal with a smile. Spring cleanups or rural lots are not a problem for Vista Clean Tucson; our trucks are equipped to handle most yard waste situations. We serve the whole Tucson Metro area so chances are if you live in Pima County we can assist you. Vista Clean Junk Removal is good for the environment. Vista Clean on your behalf will recycle and donate as much we possibly can. Vista Clean can take all sorts of yard waste except for chemical and tires however we can separate those items and stack them neatly for you. Whether you have commercial or residential yard waste to be hauled off Vista Clean Junk Removal has you covered call today for our scheduling availability
Reviews from some of our customers with safe & tidy yards:
"This is the second time we've used Vista Clean in the last couple of years, and their service was once again outstanding. They were able to schedule us quickly,.within a couple of days. Ken and his crew were very pleasant and easy to work with, picked up several large piles of junk and debris from our yard, and carted them away in a very short time. They cleaned up after their work, leaving almost nothing behind, They quoted us a very reasonable flat rate based on volume, and came in under it. We'd recommend them without hesitation to anyone need help cleaning up." – Tappan King (see review on Google Maps)
"
Excellent service. Arrived on site early. Quickly removed my yard debris on a hot afternoon. Got everything in one truck load and so saved me the money of a second trip. Very highly recommend.
" –
Bob Bogle (see review on Google Maps)
"I called Vista Clean and got an appt. within 5 days. They called the day of the appt. to confirm the time and that they were on the way. When they arrived the 3-person team got to work, came back the next day, and finished the yard clean up of many piles of tree limbs, branches, and other yard debris. They were friendly, professional and did not try to up sell me like so many companies seem to do these days. They did the job I asked for and did it well!" – Mark Koenig (see review on Google Maps)