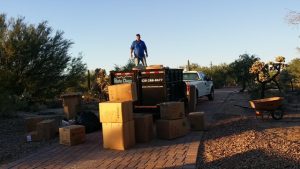 Things You Can Expect from Professional Junk Removal Tucson
Any junk removal company will claim to be the best. It is easy to make such statement, but the most important thing is not the claim, but how the company does its job. It is better to be under-promising and over-delivering rather than the other way around. With no intention of imitating others, here are several things you can expect from Vista Clean, a Professional Junk Removal Tucson.
We respect your budget and time
Some people have much free time and countless budgets to spend, but most of us don't have such luxuries. We appreciate your time and allow you to set an appointment according to your schedule. Vista Clean is locally owned junk removal company in Tucson, not part of large corporation, a franchise, or a subsidiary of any parent company. After a schedule is fixed, we arrive and give estimates on site at the same day.
Nobody wants any unexpected costs or hidden fees for anything. This is the main reason that we give estimate on-site rather than via phone. To determine accurate estimate, we need to see the actual workplace, the amount of trash, volume, distance, and difficulties of the job. By calculating the estimate on-site, everything is more transparent and you get nothing less than what you pay for.
Responsible junk removal
Every year, about 39 thousand tons of trash are recycled in Tucson. By using professional tools operated by trained workers, the junk removal process in both residential and commercial properties will be quick and safe. Some of the trash will go to recycling center for further processing, and other items will be salvaged if possible. You may not use your old TV or bicycles anymore, but the donation centers know many people who can make use of those things. We make sure that any salvageable items will go to charities and non-profit organizations to help other in need.
Every worker in our junk removal Tucson company is insured; there is no worry about accidental damaged properties or injuries. If the worker is proven liable, we take full financial responsibility for your loss. When every job is done, we clean the entire workplace, leaving clean areas as you expect.
Versatile services
When we hear about junk removal, garage and basement are probably the first areas in a house that come across the mind. Vista Clean Junk Removal Tucson provides services to cover not only those common areas, but also the removal processes for other things including but not limited to office cleanout, construction debris removal, attic cleanout, yard waste removal, and power-washing services.