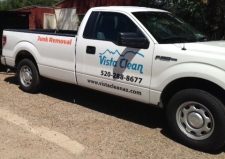 We thought we would introduce you to our latest junk pick up truck.
It is a beautiful like new 2014 Ford F 150. While I am typically not a Ford fan,
we got a great deal from O'Reilly Fleet Sales and couldn't be happier.
If you are in the market for a work truck see Dave, he will treat you
right. Anyway, our Junk Pick up Truck is a 5.0 V-8  that can tow 8400 lbs.
It has 360 horsepower @ 5500 rpm's. plenty of power to tow a full
dump trailer. From our initial junk pick up runs it has held it's own and
runs like a dream. We have her lettered and ready to go. We look
forward to many more junk pick ups in this truck!